November 2017 The Lucky Island Events
Name: 9th Takasato River Side Walk
Date: Saturday November 4th
Area: Takasato, Kitakata City
Time: Registration 8 am, Opening Ceremony 9 am
Address: Kaminodai Takasatomachi Kamigō
Kitakata-shi, Fukushima-ken 969-4301 (旧雷神山スキー場 Parking lot)
Details: There are 2 courses prepared for this river one, the first one is a 7 km course that takes you through the power station and the second, a 10 km course which follows the Aga River Romantic course. There is only 100 spots per course and they're on a first come, first serve bases. Pre-registration is on the website although you can register on site.
Price: ¥600 per adult, ¥300 kids of Junior HS or under.
Website: https://www.city.kitakata.fukushima.jp/soshiki/sangyo-t/7419.html
---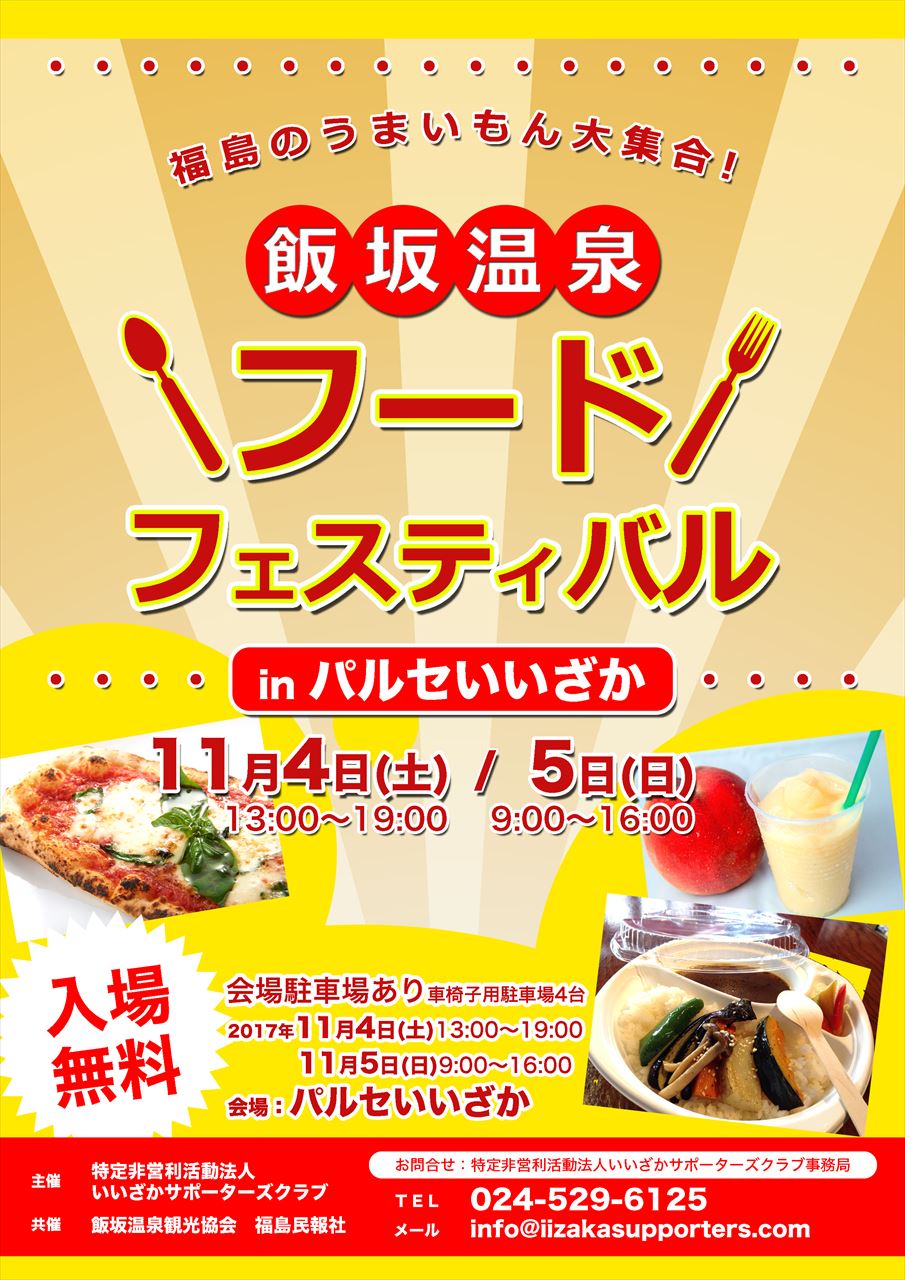 Name: Iizaka Food Festival
Date: Saturday November 4th and Sunday November 5th
Area: Fukushima City, Iizaka Onsen
Time: Saturday 13:00 to 19:00 and Sunday 9:00 to 16:00
Address: Paruse Iizaka 福島市飯坂町筑前27-1
Details: Come and enjoy this onsen town's locally grown food and produce made available to you by local shops. With food and drink provided by 12 different shop, this little festival is bound to give you a taste of what Iizaka has to offer. Among the things you can try are curry, wine and local made sake. And after you are done stuffing your face and enjoy, hop into one of the many onsens in town.
Price: Free
Website: http://iizakasupporters.com/2547.html
---
Name: Sukagawa Taimatsu Akashi
Date: Saturday November 11th
Area: Sukagawa City
Time: Food stalls and such start at 11 am, torches are lit at 6:30 pm
Address: Midorigaoka Park, Atagoyama, Sukagawa, Fukushima Prefecture 962-0867
Details: Following a tradition that spans centuries, this festival is one of Japan's largest fire festivals right here in our back yard. Gaze at the torches burn as you enjoy the background beating of the taiko, truly a spectacle worth attending.
Price: Free
Website: http://www.city.sukagawa.fukushima.jp/taimatsu/
---
Name: FuJET 2017 Midyear Beer Hall
Date: Thursday November 16th
Area: Fukushima City
Time: 17:45 meet up outside of the Sun Route Plaza Hotel in Fukushima City
Address: Asahi Beer Garden in Shikinosato 四季の里 アサヒビール園
荒井字川石田1-1, Fukushima, Fukushima 960-2156
Details: There is only one time every year where we have all of us in one place and therefore can expect prefecture wide shenanigans. If you like eating, and drinking, partying and clinking (your glasses that is) come join us at the Midyear celebration dinner, forget the stress of the day's conference. All you can eat and drink for 2 hours plus transportation from and to the hotel. Please make sure to RSVP, we still have some spots left!
Price: ¥4550 (Please have exact change and pay the day of)
Website: https://goo.gl/7jRNL8 
---
Name: Odaka Volunteer Day
Date: Saturday November 18th
Area: Odaka, Minami Soma
Time: 8:30 am~ 4 pm
Address: Odaka Station
Details: After the 2011 disaster Odaka town in the Minami soma region was one of the most heavily affected areas, now six years later, efforts are still being made to recover and helping to allow people to return to their home. The day's work can range from anything from cutting grass and raking to chopping down trees. Rain or shine, volunteers from all over the prefecture and even as far as Tokyo come together once a month. If you have a free day, come join, you can even enjoy the discounted onsen after.
Price: Free
Website: https://www.facebook.com/events/137013493691950/?active_tab=about