Name: Koshidai Sakura Festival
Date: Thursday, May 3rd – Saturday, May 5th
Time: Starts at 10:00 am
Address: 963 – 8303 Fukushima Prefecture, Ishikawa District, Otsuka Machi Okuda
Details: Enjoy spring to the beat of the taiko drums, the trees swaying to the rhythm of the hula dancers and and the birds chirping to the tune of the singers. Among these, many other performances will be held as well as typical stall festival food.
Price: Free
Website: http://www.town.furudono.fukushima.jp/file/13129/20180405185916.pdf
---
Name: Samurai Festival
Area: Minami-Soma City
Date: May 5th (Saturday)
Address: 福島県南相馬市原町区橋本町4丁目13−27 (Fukushima-ken Minamisoma-shi Haramachi-ku Hashimoto-cho 4-chome 13-27)
Details: Ever wanted to become a samurai for a day? Gather your friends into a squad like no other? Test your skills in an epic battle to capture the flag AND defeat the rival army? All on a historic samurai training ground?
Well, come on up to Minamisoma on May 5th for the 4th annual Samurai Fes (サムライフェス) and live that dream. This year's festival will include:
– a capture-the-flag samurai battle
– professionally katana choreography
– taiko
– traditional Soma region dance
– horseback riding
– children's archery
– a petting zoo
What more could you want?
The event will be held May 5th starting at 10 am, and there will be a practice/training session on the 4th starting at 3 for those who wish to join. Come individually, make your own teams, or cheer on for everyone.
Website: https://www.facebook.com/events/1837505162955243/?notif_t=plan_user_invited&notif_id=1524894564849590
---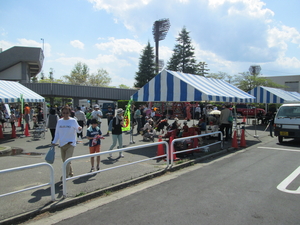 Name: 53rd Koriyama Children's Festival
Date: Saturday, May 5th
Area: Koriyama
Time: Opens 9:30 am
Address: Refer to the flyer for locations of certain events
Details: A day just dedicated to children with activities for them, maybe for you too! With 8 different venues, there is something for everyone to enjoy.
Price: Free entrance
Website: https://www.city.koriyama.fukushima.jp/221000/event/201405/50koedomomaturi.html
---
Name: Fukushima Ramen Show
Date: Sunday, April 29th – Sunday, May 6th
Area: Koriyama
Time: 10:00 – 20:00
Address: 開成山公園自由広場
963-8851 福島県郡山市開成1丁目5
Details: Do you love ramen? No really, like love love ramen? Enough to come down and savor ramen from all over the region? With 10 different options to try,  you will have to either eat 10 bowls of ramen or come every day! This festival is definitely waistline friendly.
Price: 780 yen per ticket (each ticket is 1 bowl)
Website: http://www.fct.co.jp/event/ra-men/
---
Name: Gagaku of Spring
Date: Saturday, May 26th
Area: Bandai
Time: Entrance at 13:00, starts at 14:00
Address: 慧日寺金堂
969-3301 Fukushima-ken, Yama-gun, Bandai-machi, Bandai, 福島県耶麻郡磐梯町大字磐梯本寺八幡4614-5
Details: Be transported to the Japanese court era  with the sound of the traditional music played during this time. This is one of Japan's traditional music and it has been played since around the 7th century!
Price: 500 yen general, 400 Elementary and JH students, and residents are free.
Website: http://www.town.bandai.fukushima.jp/site/enichiji/20180526_haru_gagaku_af.html